M(3), 8/24/15: There is No Standing Still in Recovery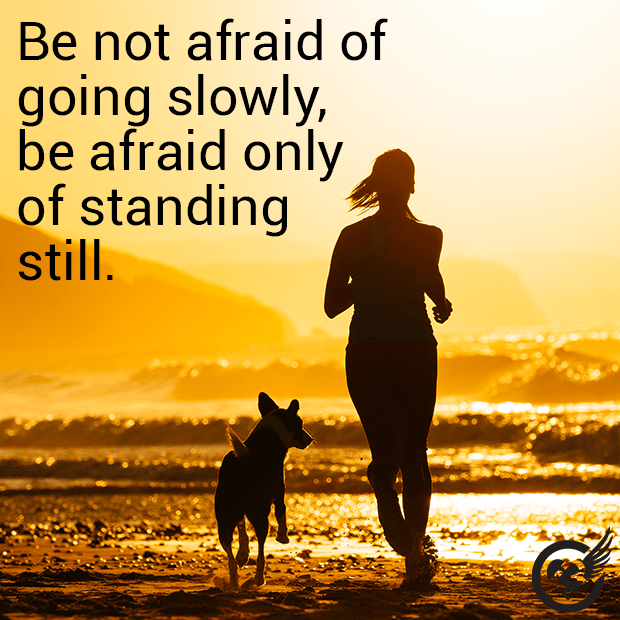 The number of attendees in a given meeting is not an indication of the impact of a meeting.  Which very well might be stating the obvious, but clearly I am not very good at predicting how meaningful a meeting is going to be.
Because when I started the meeting this morning and saw only 8 people, and only regulars (the gentleman from last week was disappointingly absent today) were present, I assumed I'd be operating the meeting on cruise control.
I should know better by now than to make such predictions.
For the record, the literature we used this week is As Bill Sees It, a collection of excerpts from conference-approved sources.  It is similar to a "Best Of" album, and it is organized topically.
Knowing that one woman, regularly attending for 3 or 4 weeks now, is on the newer side of sobriety, I asked her to look at the index and select the topic that appealed to her.  She selected "alcoholism as an illness."
Then we started the meeting, and that same woman announced that she was celebrating 30 continuous days of sobriety for the very first time in her adult life!  Her excitement and pride were absolutely contagious, and I was almost as proud to present her the very first sobriety "chip" she has ever received.  Celebrating anniversaries is always a joy, and celebrating someone's first anniversary ever is even more special.  It was a great start.
A few more attendees came in moments after starting, so the number went up; two in particular I was happy to see.  First was a friend in the program who's been away on a number of summer vacations.  Second was a gentleman that I know from a variety of meetings over the years, and sporadically at the one I run.  I know him by name, and well enough to exchange pleasantries, but he appears to be an intensely private person.  In all the meetings I've attended with him, I've only heard him speak once or twice.  I know he's been around quite a bit longer than me, but that's about it.  Even with our lack of communication, it's always nice to see someone you haven't seen in a while.
We wound up reading 5 of the 16 readings on the topic.  It's always a good thing when we share more than we read!  Here are some of the highlights discussed:
Remembering that we have the power of choice when it comes to drinking alcohol.  Many of us, myself included, remember well a time when we thought ourselves the victims of circumstance when it came to our drinking careers. When we chose to become willing… willing to listen to the suggestions of others, willing to put down the drink one day at a time, willing to consider a different way of living… we realized this was a choice that dramatically changed our lives for the better.
Remembering that we are offered a daily reprieve, rather than a cure.  A friend shared that she is witnessing the fallout of a family member's relapse; after a decent number of years, he began drinking again, and his family had to uproot themselves to get him to a rehab.  She said watching the relapse from the perspective of the devastation it causes the family is a stark reminder why she needs to remain diligent with her recovery.
A lively discussion came out of the question of the morality of alcoholism.  The consensus of this morning's group:  once in possession of the knowledge that we have the disease of alcoholism, once in possession of the tools to achieve sobriety, we have a moral responsibility to make use of those tools so that we don't pick up the first drink.
Distinguishing between a spiritual awakening and a spiritual release.  The book gave the example of one of the co-founders of AA.  Dr. Bob had a spiritual awakening very early in his recovery; his release from the compulsion to drink, on the other hand, took a number of years.  This was an important topic for our group, because some are still struggling with the desire to drink even after a considerable amount of time in the program.  Knowing that you are not alone in this struggle is a crucial means of easing the burden of craving.
The last reading spoke of not being alone on the journey of recovery, and how important it is to feel a part of a community.  It is possible to get sober alone, but having a sober support makes the process much simpler, much less painful, and much more meaningful.
---
And all of this wisdom shared would have been enough to make the meeting a great one.  But then two things happened:
The friend who came in just as the meeting started finally shared towards the end of the meeting.  It turns out, she is struggling mightily with a lack of support in her recovery.  It was clear that sharing this personal information was difficult, but it was miraculous to see how the simple act of sharing it made such a tremendous difference:  her posture straightened, her face brightened, she was able to engage fully with others.  It reminded me, yet again, how important it is to share what's going on with us.
The second person who came in late, the gentleman who never shares, raised his hand.  Funny sidenote, I almost missed his raised hand because I'm not used to looking in his direction… to my knowledge, he has never shared in this meeting.  As it turns out, he has always found it hard, in his 13 years of sobriety, to share, because he is a quiet person by nature.  It also turns out that he is open to the suggestion that he needs to share, because after 13 years of sobriety, he started drinking again, and he can attest to the fact that the moment the alcohol entered his system, the phenomenon of craving began.  By the grace of God he is sober this morning.  He has been encouraged not only to attend meetings regularly, but to raise his hand and share what's on his mind.
And he knows enough that he needs to take the suggestions of others in order to get back on his recovery feet.
---
I imagine that opinion would differ about what is most powerful to witness when you are a regular attendee of 12-step meetings.  I've heard people say that watching a newcomer enter a room for the first time is a powerful reminder of why it is important not to pick up a first drink.  I'm sure others would speak of watching the transformation of that same newcomer as he or she works the 12 steps of recovery to be the highlight of meeting attendance.
But for this recovering alcoholic, there is nothing more powerful than to hear someone with sober time speak of relapse. When someone opens up about what happened to make him or her lose his or her way, what happens with the progression of the disease, and, most importantly, how much more painful it is to recover the second time around… that's the stuff I'm taking away from this morning's meeting.
Today's Miracle:
My original miracle was to light-heartedly talk about this being the last Monday of summer before the kids return to school, but now I must keep it simple:  I feel incredibly blessed to be sober today.